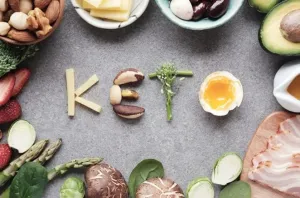 As it turns out the ketogenic diet works by a biocellular process known as mitochondrial uncoupling. This process is facilitated through the gut when our bacteria manufacture post-biotics. This whole process builds more mitochondria which burn more energy and forces fat cells to release their calories.
There are three simple rules:
1) Consume some of your calories as medium chain triglycerides, MCT oil for example. Start with a tablespoon per day and try to increase it to three times a day gradually.
2) Utilize time restricted eating
3) Feed on fermented foods and fiber including cruciferous vegetables.
MCT oil can be added to beverages or consumed directly. They should ideally be non-GMO and organic. Start with a tablespoon a day in the morning and this will not break your fast. I also suggest 1 teaspoon of organic India psyllium in the morning as this is a resistant starch and it will tend to make you feel full. It will also help keep your bowel movements normal.
Time restricted eating ideally would be one meal a day (OMAD). People who are originally on a higher carbohydrate diet will have a hard time with time restricted eating initially. If this is the case, delay your first meal of the day as long as possible. Each week try to delay it a little longer until you get to about a six hour eating window, say 2 to 8. Do this Monday through Friday and be more lenient on weekends. Try to avoid grazing, and stay hydrated. Use the MCT oil and the psyllium in the morning and MCT oil in the afternoon. Drink black coffee or coffee with MCT oil powder. Drink black or green tea. Your meal should consist of grass fed and grass finished animals, wild caught fish, dairy from southern European cows, buffalo, sheep and goat and should be full fat. Cruciferous vegetables should be chopped before steaming and these include broccoli, cauliflower as well as other sulfur containing vegetables like onions, garlic, leeks, shallots, etc.
Feast on fermented foods and resistant starches. Sauerkraut, kombucha, miso paste, kimchi. Sweet potatoes, yams, plantains. Yogurt and cheeses from France, Italy and Switzerland. Goat and sheep dairy. Up to 6 ounces of red wine per day. Try to buy organic. Try a good quality vinegar such as Braggs in warm water as a beverage snack. Other high-fiber foods include artichokes, asparagus, leeks and chicory. Avoid sweets including fruit juices which are high in fructose. If you need to sweeten a dish, try swerve or Monk fruit sweeteners. Try and macadamia nut creamer.
For additional food selections go to DrGrundy.compdf-food list
Better yet, read the book as it has a bunch of good keto recipes
As always, if you have any questions, call, text or E-mail me.