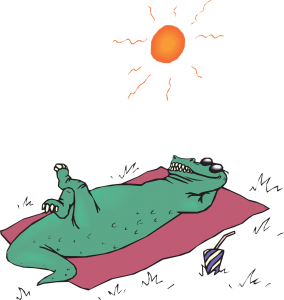 It's Summer! It's time to bust out the sunscreen and hit the beach! However, if you're like me, you haven't seen the sun in 10 months and aren't sure where exactly that ancient bottle of sunscreen (you've had since high school) went. Time to hit the store for some outdoor supplies. Easy, right?
No! You've endured 30 min of traffic to go 2 miles down the road – thank you Massachusetts- and you are staring at a literal AISLE of sunscreen. The SPF labels offer all different levels of protection from lotions that won't keep you safe in the shade to an SPF so high you may be able to walk on the surface of the sun. (disclaimer: Action Medicine does not encourage otherworldly fire walking….. or fire walking of any kind.)
WHAT DOES IT ALL MEAN???  Let's break it down. SPF is your "sun protection factor". With an SPF of 30, it would take you 30 times longer to burn in the sun than if you were not wearing any sunscreen. With an SPF of 50, 50 times longer….you get the idea. Keep in mind, these calculations are made with the idea that it was applied in the perfect proportions to the skin and not just that swipe you did down your face with whatever was left over on your hands after applying it to your arms.
So, what are we protecting ourselves from? UV rays. There are 2 types of UV rays. Both can damage skin and lead to skin cancer. UVB rays play a key role in skin cancer development. Most sun block is designed to block UVB. However, UVA rays can also cause sun damage which causes tanning wrinkles, aging and skin cancer. You need to look for a sunscreen that states "broad spectrum" in order to cover both types of rays.
Remember, sunscreen is not a one and done situation. You need to reapply your sunscreen every 2 hours and immediately after swimming or sweating. Water resistant does not mean forever! Generally "water resistant" means that in lab testing the SPF protection was maintained for 40-80 minutes after swimming or sweating.
Take home points: 1) Look for a BROAD SPECTRUM sunscreen with an SPF of 30-50 that is water resistant. 2) Apply 15-30 minutes before sun exposure. 3)REAPPLY! 4) Wear a hat and other sun protective clothes, if prolonged outdoor activities, to reduce exposure to UV rays. 5) Have fun. Our summers are super short and will be over before you know it. Enjoy it while you can!
-Brooke Rieth